When The Going Gets Tough...
...do you knit it or quit it?
This chapter of my 3-swatch contribution to the
Walker Treasury Project
opened with a bang! I was able to make quick work of the first two: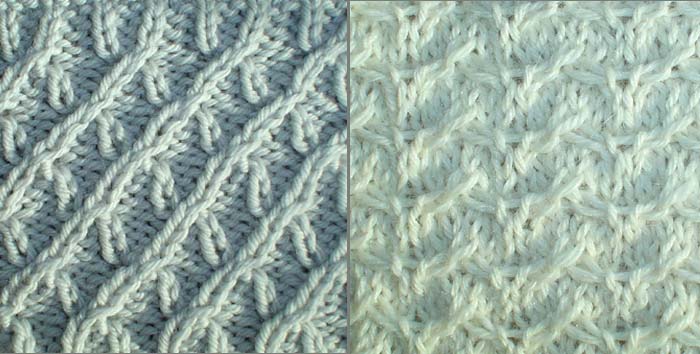 Traveling Rib Pattern (Book 1, p. 281) and Flying Wings Pattern (Book 1, p. 286)
I should have known that the cocky assuredness I felt as I launched into the hell that would be come Swatch Number Three would most certainly bite me in the hind quarters. Oh, yes, and quite smartly too.
Swatch Number Three, also known as Faggoting and Beehive Lace Pattern (Book 1, p. 188) is an ostensibly simple 4-row repeat of YOs, SSKs and K2TOGs with a few knit and purl stitches pulling it all together. Nothing outside my realm of knitting competency. According to the black and white photo next to the pattern, this lace should resemble bees lined vertically in neat little rows.
While there currently exists no photographic evidence, I clearly saw the bees in my four(!) attempts at creating this swatch. What I could not discern were the lines of openwork faggoting! I tried this pattern using laceweight Zephyr, fingering weight lambswool, sportweight wool and worsted weight cotton blend. Nothing! At least nothing that I would deign to show publicly.
I've now cast on for attempt number five, and I'm asking you, "Would you knit it or quit it?"
Labels: swatch