Ooh La La: IK!
The
Summer 2007 Interweave Knits
landed in my mailbox today and, boy, are there some sweet numbers inside. There are socks and lace and simple, classic pieces that look perfectly suited for the hot weather ahead. With a few exceptions, there don't appear to be any purposefully strange or complex garments that have sometimes graced knit magazine pages. You know what I mean.
If time (and my body) permitted, I would knit 24 / 7 and forgo sleep to produce my IK picks (
photos from Intwerweave preview
site)
: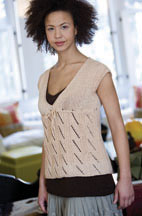 Josephine Top
Deborah Newton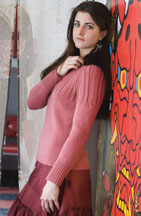 Wheat-Ear Cable Yoke
Pam Allen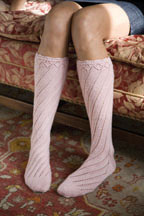 Spiral Boot Socks
Véronik Avery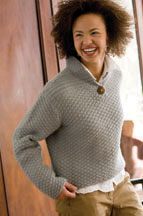 Notre Dame de Grace Pullover
Véronik Avery
Pipe dreams perhaps, but lovely nonetheless. They'll have to go on the "I want that someday" queue along with selections from
Rowan 41
and
ChicKnits
latest beauty, Nicole. Naturally, I have the perfect yarn for each of them.
Why tease myself with all of these patterns? If I'm going to live "inside my head," I may as well have lovely, inspiring company, n'est pas?
Labels: inspiration, patterns, reviews