Doggy Shrug!
The beautiful folks at
Craft:
directed me to this wonderful Doggie-size Shrug (and adorable photos of dogs wearing the shrug) that is over at
Knitty
. The shrug was created by Sarah Wilson. The photos of the happy puppies make me wonder if my puppies would be willing to wear it. This week Christian has been wearing a bell on his collar. He's been jingling all over the house. I don't think he cares for it, but it's hard to tell with him. See how he always has a pained look on his face.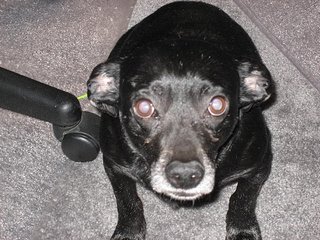 The Craft blog also sent me to the
Knit Space Invader
pattern. It brings out the geek in me. I love it! Although I'm not sure how it would work for a last minute gift. I'm a slow knitter.
Anyone find any good last minute gift patterns?