Did you know that the last Sunday in April is World Pinhole Camera Day? Basically you eschew the glass lens in favor of a light-tight tube with a tiny hole in a piece of cardboard, a Quaker Oats box or a Pringle's potato chip can. Although this is the most primitive possible camera (at least I think it is), the pinhole camera, with its potential for infinite depth of field, produces images that are often beautiful and otherworldly.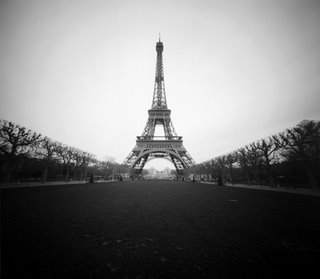 Rob Gardiner,
Paris Through A Pinhole
Feb 2005
+++
Looking for beads? I recently compiled a list in response to a question on Ravelry. Thought I'd share these seed beads or rocailles resources (Czech, Miyuki, Toho, etc.) here:
+++
Right now, the sparrows, robins and fire-red and black cardinals are twittering under clouding skies, the bells clang at St. James a few blocks away, and I'm waiting for my mom to pop in at any moment for her weekly visit. Coffee on the patio? I think so.
Enjoy your Sunday!