Blogging? No. Busy? Yes!
I may have had a major case of timorous writers block, but I certainly did
not
get bottled up on the crafting front. Hats, neckwarmers, a scarf - even a New Year's trip to Toronto - they all kept me busy. There are a couple of other items in the works but this will do for now.
Thorpe
by Kirsten Kapur
Lorna's Laces Shepherd Bulky in South Shore and Lilac (trim)
Once you get past the clumsiness of the 4 stitch cast on, the pattern really flies off your needles.
Instead of braiding the ties, I went with I-cord and mini poms to finish. There's a matching striped garter stitch scarf in progress.
Leftovers Hat
by Karen Boykin
(Ravelry link)
Yarn is Lorna's Laces Shepherd Bulky in Natural and Malabrigo Chunky is Dusty Rose
Why "Leftovers"? Because this hat was created from the yarn that remained after I knit the
November baby jumper and socks
.
This hat is paired with the Dolores Park Cowl by Parikha Mehta in the same colors.
Anne
by MK Carroll
Scarf is crocheted in Blue Sky Alpaca's yummy cotton in the Poppy color.
Admittedly, I simplified the pattern a bit by repeating rows 2-3 instead of proceeding to row 4. Get the pattern. You'll see.

Columbia Beret
by Sarah Pope
I made a few small modifications to this well-written pattern. Since I used a slightly heavier weight yarn and size 9 (5.5mm) needle, I cast on 72 instead of 84 stitches. I also did 7 increase rows instead of 8 and grafted the remaining 12 stitches at the top.
I opted against the large bow in the pattern in favor of a small crochet chain twist bow. I also used purple ribbon to decorate the garter stitch brim.


Just Enough Ruffles by Laura Chau

My friend Lisa Mendez gave this beautiful fade-dye turquoise to grey yarn. I've been waiting for the right project for at least 2 years when along came Ruffles.

Although you'll be working 3600 stitches by the time you finish, you'll be so pleased with the result, you won't care. Mostly.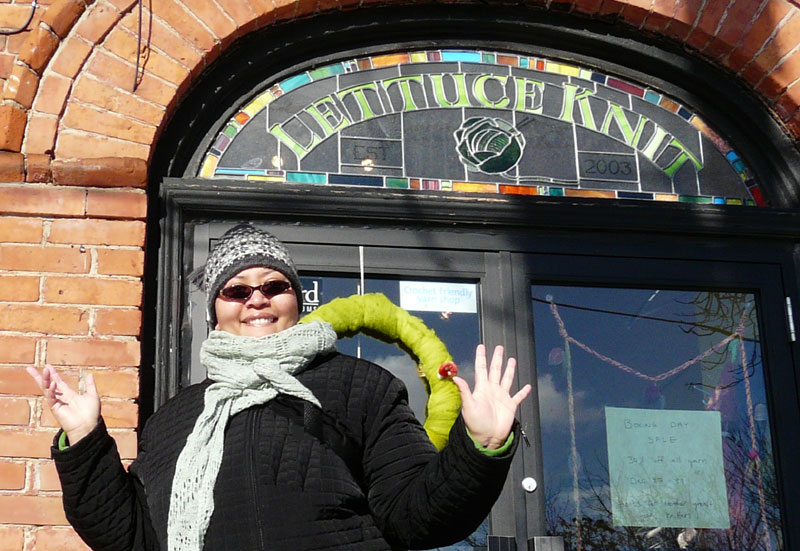 Speaking of Laura Chau, I actually met her during the Boxing Day sale at Toronto's
Lettuce Knit
. Only problem is that I didn't realize the person ringing up my two skeins of Fleece Artist was, in actuality Ms. Chau. I even had her call a taxi for us. It was not until we drove off that my friend
bellamoden
told me what was what.
Yikes! did I feel like a goof. I thought about calling to apologize - not for being mean or anything because I was not. Just like, "Hey, I love your patterns. Sorry I didn't recognize you."
Hmm. Thank Jeebus for second thoughts. Pathetic fangirl decided it was best to leave well enough alone.
Now, for this feline interlude.
"For me, every day is boxing day!" - Rocky