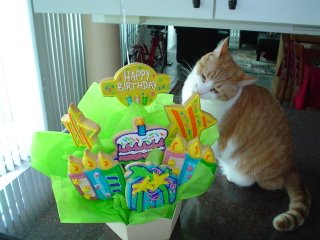 According to If Today Is Your Birthday, "Your mind is especially restless this year, and you are hungry for new experiences and for answers. Trying out new ways of expressing your creativity figures strongly, and an enterprising spirit serves you very well."
A patriot and a President are among the famous folk made their entrance on May 29th:
Patrick Henry, American patriot, statesman, and orator
G. K. Chesterton, English novelist
Bob Hope, British-born comedian and actor
John F. Kennedy, 35th President of the United States
Danny Elfman, American musician
Annette Bening, American actress
Adrian Paul, English actor. There can be only one…
Melanie Brown, English musician and actress. Scary and spicy.
And me, Karen B; crafty chica, bon vivant and woman about town.