FO: Make Room For Baby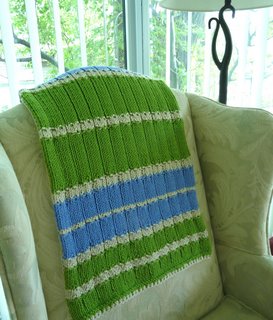 I
t took me months to complete and I had to battle back against the boredom slog through every stitch in the middle, but I
am
pretty pleased with how things turned out.
All the mother-to-be asked for was a kelly green hat. I thought to myself, "A hat's not nearly enough," and that's how a quick little knit morphed into a 28" x 34" blanket.
I was a little overwhelmed as I tried to narrow down my blanket options with
Ravely's
pattern search: must be knit using chunky yarn and freely available. One pattern really stood out for its flexibility and adaptive nature: Thrifty Knitter's
Hooded Baby Blanket
.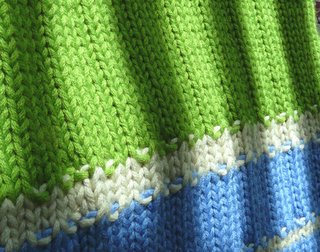 I decided that 400+ people couldn't be wrong. You should see the
variations
in the Ravelry project listing! One that really caught my eye substituted a 4 x 1 flat ribbing instead of an endless sea of stockinette.
The other thing I really liked was the use of seed stitch for each color change stripe, much like the pattern used in the
Dream in Color Tulip Sweater
. This lends a subtle, elegant texture element to what could be an otherwise bland swath of knitted fabric.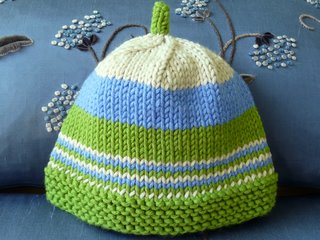 Despite all the time and effort put into the blanket, I still thought something was lacking. I almost always make a hat and this time was no different - except for the fact that I actually followed a pattern for construction. Yep. Jennifer Braico's
Fixation Newborn Hat
(Ravelry)
. Substitute leftover
Berroco Comfort Chunky
for Cascade Fixation and we have a striped hat with an inch of 4-stitch I-cord on top.
Determined not to make socks this time, I listened to the handful of voices who, in the past, have urged me to take the path of least resistance when it comes to easy-peasy baby gifts: the bib. I have finally seen the light! The bib is your friend - especially if you crochet - because you can knock one of these out in under two hours. Seriously.
The Coats and Clark pattern is called the
So-Simple Baby Bib
which requires size 3 crochet thread. So not the equivalent of chunky yarn, which is why I reworked gauge to create a bib roughly the same size as the one in the original pattern. If I hadn't, I might have cooked up something suitable for a sloppy adult (like me) who's always wearing tiny bits of food on their shirt. If you're interested in the details for the pattern modifications, just email or PM me.
With the help of needles, hooks and patterns, I turned 7 skeins of chunky yarn into something the mom says she'd be proud to put on her baby. Funny how it took four months to make someones day. I'd do it again, too.