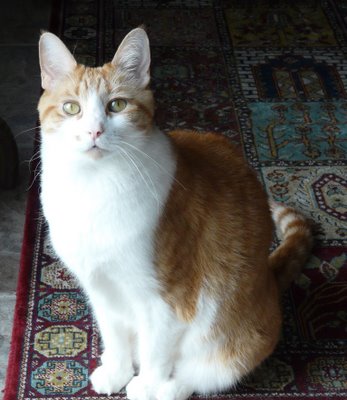 Nikita, working that beauty shot, says, "We're All Alright" (Cheap Trick. Holla!)
As you might have guessed by the lack of posts, I'm not crafting. And since this is a primarily a knitting blog, I generally try to keep it light and focused. See, my current life is a series of struggles with impersonal bureaucrats in a large insurance company, figuring out how to pay unexpected bills that keep popping up (failing appliances, water damage) and which doctor to see next.
Meanwhile, I've taken up water aerobics to strengthen my body as I search for things to occupy my mind other than the aforementioned. So why not knitting, you ask? It seems I've lost that feeling of intensity and desire to have my heart and hands working to create. I am literally surrounded by projects but they do not call to me.
One day, perhaps, they will. I did, after all, take a very long break before and came back with a vengeance to learn new techniques and work with all kinds of new fibers and colors. Waxing and waning and waxing again. That's life.
Mommy's alright, Daddy's alright, they just seem a little weird.
Surrender, surrender, but don't give yourself away, ay, aaaaaaaay.