Threads of a Creative Mojo
Sleek. Sexy. Chunky. Fun. Fabulous! These words are all appropriate when describing
Vogue Knitting's Holiday 2009
edition. Honestly, they had me at, "Cowl."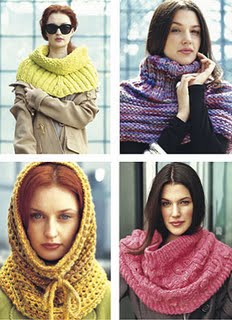 One of these beguiling beauties is just the thing for both gift-giving and stash-busting. Chunky yarns? I has it by the suitcase. Some might say I over-bought. Three hyphenates in four sentences. Too much?
Now, for a brief update on another knitting project: my little friend, the
Leaf Beret
. I feel like I'm in that commercial for the online genealogical search engine - I finished my first leaf! If you recall,
my first attempt
did not go well. I went with a
Louet sportweight wool
this time and the quickie fit checks prove satisfactory. I won't go getting all excited, though. At least, not until that final decrease row. Then I'll be all *happy* dancing, which, for that vision alone, is worth the price of admission.
There is mounting evidence that, while impersonating a certain moribundity, my creative bits ain't dead yet. I started an abstract art class this week. There was an actual live, nude model. Even more, the artist teaching the class actually liked my interpretation of
California Expressionism
. Go figure.
Labels: 2009, inspiration, knitting