What Kind of Boob Am I?
I'm the kind of boob who forgets to tell you that I finished the Leaf Beret over a week ago. It is lovely, wearable and an easy knit - especially for those like me re-entering the crafty atmosphere.
Pattern:
Melissa LaBarre's Leaf Beret
Yarn:
One skein
Louet Gems sportweight
in Mustard colorway; 100 grams and 225 yards.
Modifications:
None. The pattern is very clear, as written. Even the chart-averse will have no problem understanding the leaf motif.
It wasn't my
beloved marigold alpaca,
but I did try to hold true to the pale color of the original yarn. I did end up using the alpaca as part of a cowl that can easily be paired with the beret. It's in the seed stitch collar stage and should be ready by week's end.
I am also the kind of boob who cares way too much about what some anonymous person had to say recently in a new comment to an old post from 2005:
"JC has left a new comment on your post "Ciao 2005, Bon Giorno 2006!":

how about sticking to one language, you pretentious boob, preferably the native lanugage (sic) of the readersip (sic) you hope not to put off..."
Dictionary.com says:
pre⋅ten⋅tious

 –adjective

| | |
| --- | --- |
| 1. | full of pretense or pretension. |

| | |
| --- | --- |
| 2. | characterized by assumption of dignity or importance. |

| | |
| --- | --- |
| 3. | making an exaggerated outward show; ostentatious. |

---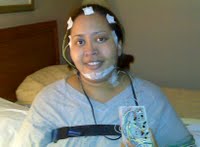 Studying the brain of the boob
Please don't confuse knowledge of more than one language as pretentiousness. This is simply a result of my environment and upbringing. I may be many things but feelings of self-importance are not part of my make-up. On the contrary, I'd rather ham it up and use self-directed humor to divert attention away from the "real me." I will retreat to a corner before making an ostentatious show.
Like many people, I can be complex, intense, perceptive, impulsive and worried over the smallest things (like why I've lost a few readers or how to stop the cat from chewing my patterns). That may make me both perspicacious and paradoxical but never, ever a pretentious boob.