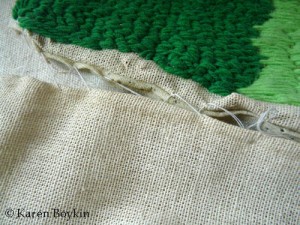 I snipped threads that were made decades ago. I had to. That was the only way to release the aging canvas from the prison of nails that held it to its old wooden frame.
I sewed my crewel-work version of Gauguin's "Nafea Faa ipoipo? (When Will You Marry?)" many years ago as an entry in an art contest when I was 13. My mother had a print of the famous painting from the artist's Tahitian period and it had always captivated me with its bold, colorful depiction of exotic beauty and youth. Unbeknownst to me, mom kept my old hand-sewn version, moving it from place to place over the years, leaving it in a closet or propped up against a wall.
When she asked me to re-frame it earlier this year, I was surprised that the long-ago piece even still existed, I having not seen it for some time. "Of course," I said. "I'll see what I can do with it."
Although there were some areas needing repair, I gave myself a quiet little psychological pat on the back for how well I captured the lines and shadows of the picture. Instead of re-framing the picture, I wanted to renew it. I looked through my stash for yarn that was a fair approximation of the colors in the places that needed to be re-sewn; not easy when the original source of the yarn was the giant wall of bright acrylics at Woolworth's. Actual wool and alpaca would have to do.
First up, a sponge bath with a mild wool wash. After drying, sew-sew-sew. Lastly, stretch the canvas on a new frame and finish the back, preparing it to hang proudly in my mother's home once again.
It's been renewed and re-gifted. Happy Mother's Day, mom!