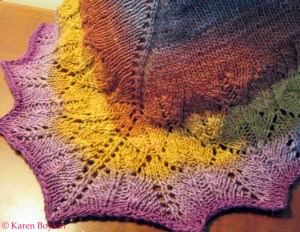 I'd intended for that lone ball of Freia Ombré Sport to be a featured player / proof of concept in an avant garde design I'd been working on. Even though the design went into hibernation, the yarn flew to top of mind when I saw Carina Spencer's Zuzu's Petals. It was designed with ombré yarn in mind.
Materials
1 ball (217 yd /199 m) sportweight yarn
24″ / 60 mm size 5 US / 3.75 mm circular needles
1 needles two sizes larger for bind off
Details
The pattern is very straightforward and easy to follow, but there may be a couple of things that might trip up someone new to circular knitting. The first potential stumbling block? Understanding how to start off knitting rows to establish the shaping for the top of the triangular cowl, then joining the now 16″ / 40 cm wide section into a circle. There's no trick to it.  Just remember to finish your RS row then join the beginning of that same row in the round. Proceed with the simple lace pattern from there. I also advise you heed the advice to do a stretchy or lose bind off. Once you try to block the piece, you'll understand why that is key.
Word of warning: you will notice that the center YOs shift by one stitch once the lace portion begins in earnest. You're not doing it wrong. That's just how the pattern is written. This little quirk doesn't take away from the beauty of the finished product in my opinion. It's attractive, easy to slip on, and the perfect shot of color over that denim or leather jacket. You might find yourself wanting to whip out more than one!