Desperately Seeking Yarn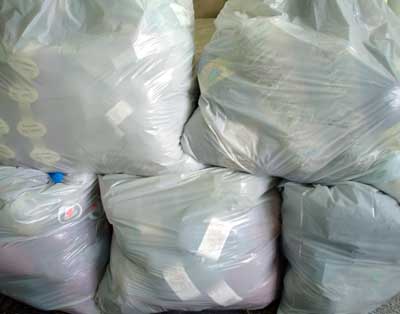 I was inspired by two things: my just-purchased (and suddenly misplaced)
STR Silkie
and
Julie's honest assessment
of yarn lust run amok.
I was absolutely frantic. I searched three closets, a half-dozen plastic bins and miscellaneous bags and boxes, yet I could not find two bleeping
skeins of yarn
. As I searched over and over again, it really hit home just how much yarn I'd amassed in 3 years.
Shame washed over me. How could I continue to automatically respond to the "S" word (sale!) now that my circumstances had changed? I felt like a glutton who'd stayed at the buffet too long, with pants unzipped to make room for the burgeoning belly. And yet, I still did not find the yarn. In light of this realization, I decided that it was time to lighten my load so I went on a search of a different kind – a search for a local group that would be willing to accept yarn donations.
This time, I did more than a cursory look-see. All bins, luggage, bags and hat boxes were opened and the large plastic bags began to fill one by one with Red Heart, Lion Brand, Rowan, Debbie Bliss, Jaeger, KnitPicks and Malabrigo. (ETA) No, not all the Malabrigo.
I felt as though I'd shed a second skin (and cleared out one of the three closets in the process). I also took the opportunity to organize the remaining yarn. Though still a substantial amount, at least I am able to more quickly locate that which I seek.
By the way, I did eventually find the Silkie.
Karen, Karen, have you any wool?
Yes ma'am, yes ma'am. Five bags full.