Tools of the Trade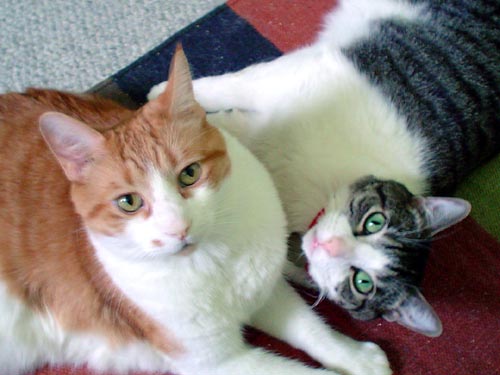 I
n the past week or so, I've been looking into ways to use some new (to me) web tools to help track my projects, yarn stash and books. Beyond that, it appears these sites also offer additional knit-working and community building opportunities. What am I jabbering about?
The first is
Ravelry
, a site that, according to its founders
Jess
and
Casey
, "is a place where you can organize your knitting and crochet projects, your stash and tools and also connect with other crafters from all over the world! It will have many blog integration features so that you do not feel like you are duplicating efforts, and the blog- free will finally have a place to really showcase their projects." Ravelry is currently in beta test mode so understand that not all anticipated functionality is in place as of yet. If you're interested in shaping Ravely's future, you may request an invitation via email
through the site
.
Next up is
LibraryThing
. On the surface,
LibraryThing
appears to be little more than an online cataloging mechanism. Dig a bit deeper and you'll note that it, too, offers a way to connect with those who share your taste in reading material. Per the site,
LibraryThing
lets you:
Search Amazon, the Library of Congress and 70 other world libraries

Get recommendations. Connect to people with similar libraries
Tag your books as on Del.icio.us and Flickr


Put your books on your blog

Export and import your data
For instance, I was able to follow the Import instructions to pull in all my knit and crochet-related Amazon.com purchases, as well as add tags to these books. That left a handful of books for me to enter separately via LibraryThing search. I also joined a discussion group of some 300 other knitters with whom I share the same purchasing predilections. The only downside at the moment? I am not able to automatically catalog my pattern brochures and magazines.
I have proposed that Ravelry leverage the cataloging feed or import functions of LibraryThing so that there truly is no duplication of effort but just an enhancement of the social community aspects of both web offerings.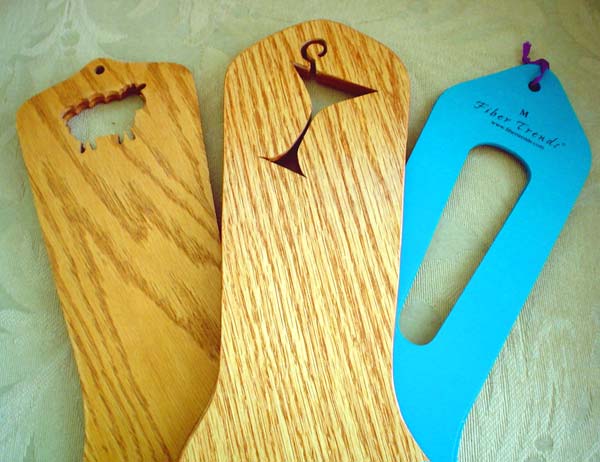 That's the software. Now, to answer a question or two about the "hardware," also known as sock blockers.
Debi
asked, "do you have more than one size and do you really like them?"
I have 3 sizes, two wooden sets and one in a sort of composition plastic called Sintra. Yes, I like them - partly because they're decorative and partly because they're functional.
Terri
asked, "Are your sock blockers from The Loopy Ewe? Do you like them for actual blocking, or are they just a fun accessory?"
The sheep are from
The Loopy Ewe
, the martini glasses are from
Scout's Swag
, and the composition plastic are from
Fiber Trends
. While they are a fun accessory, I used the Fiber Trends sock blockers for wet blocking. The pretty wooden blockers are good for a post-knit shaping AND for photo shoots!
By the way, the
knitting weather report
turned out to be fairly accurate as my right shoulder would only cooperate for 5 rounds of sock knitting.
Labels: tools