This week in snow, sleet, rain and knitwear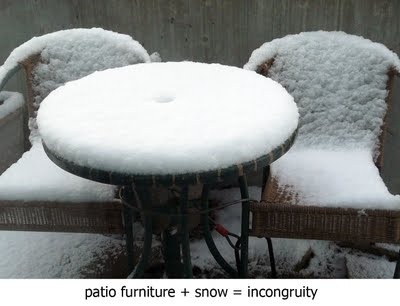 It was Monday morning. As is his habit, Nik stood on my chest long enough to wake me and make known his desire for his 4 a.m. feeding. He does this every morning, like I'd forget or something. Not bloody likely after 13 years. I'm a creature of habit, too, buddy. I know how it goes.
I glanced upward from my bed out through the slightly open blinds. It seemed so light out that I figured I really had overslept, leaving poor starving kitties to struggle for themselves well past 5 o'clock. I swung my legs over the side of the bed, squinted at the clock on the night table and saw that it was only 1:48 a.m. In my vast experience of such things, the only reason for the softly bright night sky was snow. The first real, stuck-to-the-ground, more-than-a-dusting snowfall of the pre-winter season. And me, caught with my needles down.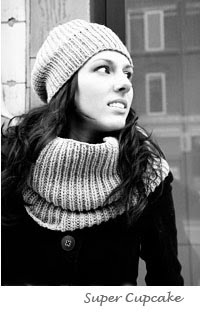 While it's true that I already have a beret and cowl under my belt, I want more. It wouldn't hurt to have another cowl or two, with matching chapeaux, mittens or fingerless mitts completed. I won't go so far as a sweater or lacy shawl because these things, while quite lovely, require the kind of patience I do not possess.
Watch out for sticky fingers with this one! She is called
Super Cupcake
and she will be mine this winter. Bonne Marie has come up with another practical, sensible and versatile knit to battle the wind and the wet. I have just the worsted in mind, too: 3 or 4 skeins of
Lorna's Laces
in the Vera colorway that's been marinating in stashland for quite some time.
Perhaps I need to put the baby dress aside and gear up for more suitable woolens. My original plan called for the dress to be finished in time for baby's first Christmas. Well, like the man says, plans change. I hear there's a bonafide winter storm headed our way by week's end.