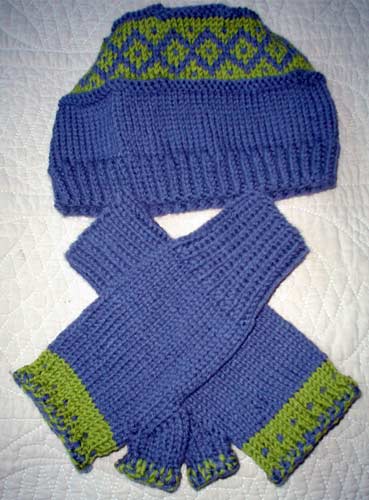 I've fallen into a pattern in the past 5 years. You see, I've had 3 or 4 interns on my team and they've all been guys. Not on purpose, mind you. It just sort of turned out that way. I've taken to calling them "my boys." The gender bit isn't the pattern of which I speak, however. It is the habit I've developed of making hats for them.
The latest items off the needles are for Chad, who asked for blue and green. I came up with a tiny bit of colorwork by cobbling together the diamond chart from one pattern with a star-shaped crown from another.
Specs: 1.5 balls of Debbie Bliss' Cashmerino Aran (dusty blue) and .5 ball of Merino DK (bright green)
Better get this boxed up and sent off. Looks like the temperature will be dropping back to what passes for normal in the Midwest. I think he'll be able to use the hat and mitts right away.