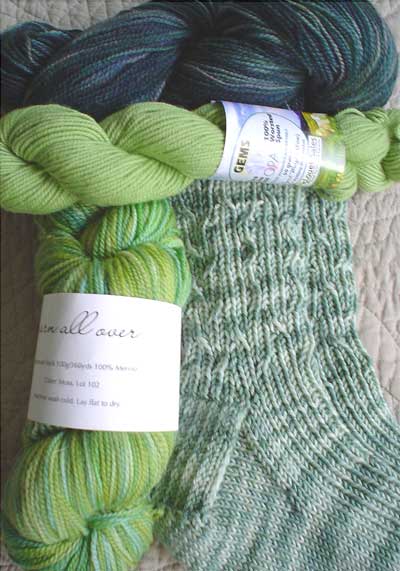 I do love my greens – both the kind you eat and the kind you knit with. In the spirit of the Green Sock KAL, I decided to do a little more stash spelunking in search of said sock yarn greens. The results?
* A deep forest blue-tinged green from Fearless Fibers
* A melange of sprightly green moss from Yarn All Over
* Louet Gems Willow (Fern's brighter cousin)
Since I've got 2 skeins of the Yarn All Over, I'm really thinking of knitting up my first pair of knee socks. Any suggestions on a pattern suitable for stout calves? I know I'm in for some shaping madness, but beyond that, I'm open.
Now the "Chic" part of today's entry comes direct from Bonne Marie's ChicKnits catalog. ChicKnits now offers hard copy versions of some of her most popular patterns. Now, the one I chose is a new take on an old fave: The Ribby Pulli.
Bonne Marie worked with Scout to develop some custom colorways for the model sweater. Beautiful, but too spendy for me as I'm fairly dedicated to shopping in my home-based yarn store. I found 5 skeins of Lorna's Laces worsted in the Ice House colorway and paired it with Web's house brand Valley Yarns Amherst for the swatch you see here.
I'm going to do the long-sleeve version, though the pattern includes short-sleeve and hoodie versions as well. Love the blues and greens of my new-found yarns. Even knitting up the swatch made me happy in the dead of winter!