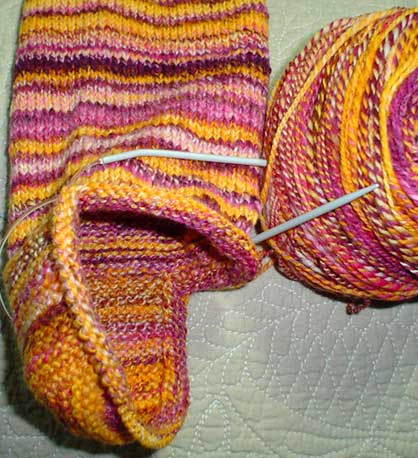 I was just about to pick up where I left off with these troublesome socks when I looked down and saw it: this sock was unmistakably smiling. Not a happy, welcoming smile so much as a curled-lip, mocking grin. OK, I'll leave the anthropomorphizing be, but I do see something amiss in the gaping pre-gusset maw.
Here's the backstory: I started this sock last week in Teyani's yummy Sock Hop yarn (Wild Thing) as an antidote to the gray, sub-zero weather. I'm not following any particular pattern. Just a 64 stitch cast on with K3, P1 ribbing into a stockinette leg. I was at the point of the heel where things came twice undone.
Since this is a "knit as you go" kind of thing, I decided to try my hand at a short row heel once again. I was successful back in October and I had plenty of books and online guidance to make it work once again, or so I thought. First try: wrapped short rows left gaping holes which I tried to ignore and couldn't. Second try: yarn-over short rows which looked equally bad and left me feeling completely incompetent.
Look, the purpose of knitting isn't to leave you feeling defeated (unless you're into that sort of thing). I just wanted to have a go at knitting a sock for colorful warmth and comfort. That's why I resorted to what I know best, and that is the heel flap and gusset construction. Not very exciting but at least I won't be saddled with holey, mocking footwear.