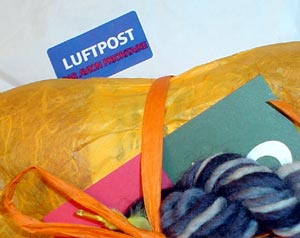 Hallo meine Freunde! Today it's all about the contents of my Luftpost package – specifically, two newly arrived Bavarian beauties from Wollmeise.
Naturally the 4-ply superwash wool is soft, but that is not what makes Wollmeise so special. Each 380 yd. (350 m) skein is available in nearly 40 different shades. Consider too that you can vary the intensity of that color (bright, medium or dark) and you've got hundreds of customizable possibilities. Toss in Wollmeise owner and dyer Claudia's one-on-one customer service and you've got a winning proposition.
(L) Campari-Orange (R) Poison Nr. 5
At 13 Euro each plus 8 Euro shipping for 1 – 2 skeins, these unique hand-dyed yarns are worthy additions to your collection.
Is your German a bit rusty? Click on the link near the bottom, right labeled 'englisch'. Once you've decided on which color and type of yarn you want (they offer sock, worsted and baby aka lace weight), click 'contact' to send Claudia an email with your request.
By the way, a selection of Wollmeise yarns will soon be available in North America through The Loopy Ewe if you don't want to navigate the Wollmeise website.
In knitting news, I stuck a pin in the map and have set a goal of finishing mates for 2 single socks over the next couple of weeks. After that, Forest Canopy bobs back up to the top. This time, I made note of the last pattern row so as not to repeat The Dance of the Stitches once I resume.