I've been a busy woman lately! Between starting occupational therapy and hobnobbing with the knitterati, I haven't had a moment to myself.
Ha. Who am I kidding? The truth is that I'm slowly trying to get back in the game, reconnecting with friends of the yarnish persuasion and making a few small things, like a baby hat and one (yes, one) toddler-sized fingerless mitt from some yummy fingering weight leftovers. No pattern, just rib, gusset and go.
I did finally meet Colleen, aka Subway Knitter, in recent weeks. We gabbed like fiends over the Sunday buffet at India House. Smart lady with a beautiful smile. I wish that we'd had more time but planes to catch, etc.
The Book Report
Hot off the presses, we have Kay Gardiner and Ann Shayne of Mason-Dixon fame "Knitting Outside the Lines". The cross-country book tour hit Chicago this weekend, and I caught up with the FO show and tell at Loopy Yarns. Just one pass through the latest hardcover tome and I've got at least 5 patterns marked. Big plus? They signed one just for me. And the other people standing in line. OK, I may not be special but I do declare (in my best Southern belle imitation), this sophomore effort is worth your time.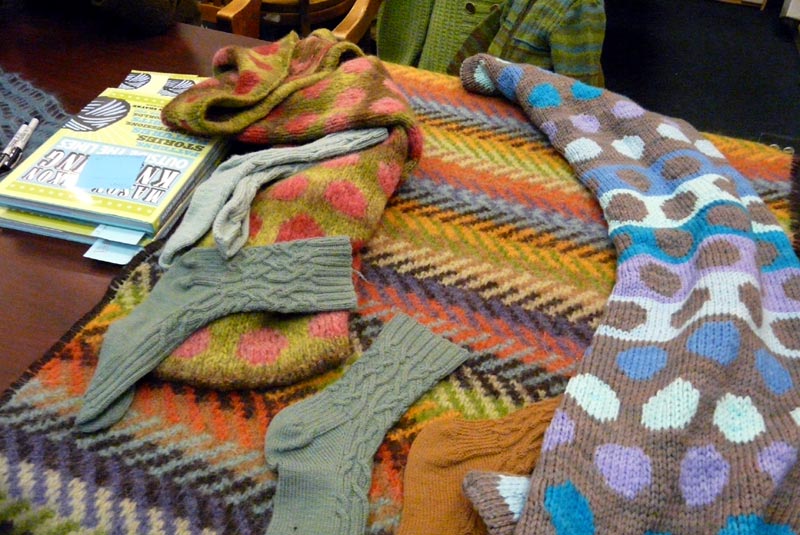 Patterns in the book shown here include the Stephen Colbert socks, Dotty, Kiki Mariko.
Also spotted in the crowded two-story store were Mary Neal Meador, Bonne Marie Burns (ChicKnits) and Franklin Habit (The Panopticon) with the first copy of his new baby, "It Itches".
Franklin, beaming like a proud papa, lovingly passed around the new book, delivered late last week after months of intense labor. "It Itches" will be officially launched later this month in upstate New York at Rhinebeck. More tour dates are available here.
This last bit is kinda cool and I rate it as my favorite scene of the night. Here we have Ann Shayne, on her break from the book signing upstairs, shyly asking Franklin for his autograph on the special Loopy Yarn bags he designed.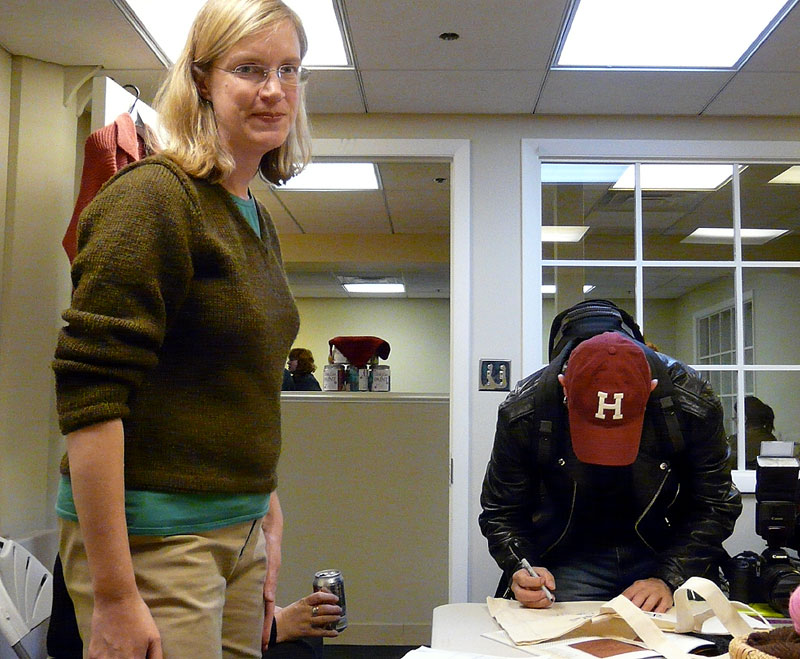 I do love my knitters! They welcomed me despite my long absences from their midst. I'm just bummed I couldn't make it to YarnCon this year though, on second thought, my wallet is probably grateful.