At some point, it becomes impossible to play catch-up. I'd say that two years since my last blog post falls in that "impossible" column. The task then becomes to determine exactly what makes the highlight reel. Let's play this LIFO-style.
YarnCon 2013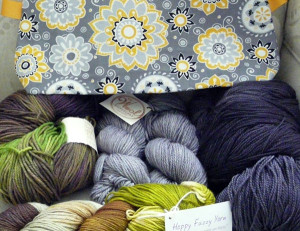 Not only was YarnCon, Chicago's indie fiber fair, better than ever in its new home at Plumbers Hall, I was actually invited to teach one of the workshops. Who doesn't love learning a couple of new crochet stitches. Bullion or bobbles, anyone?
So many friends – old and new. And yarn. Lots of yarn. I did what I could to support the local crafting economy with a couple of judicious purchases.
My body was one giant ache but my spirits were light and happy. I got to spend the day playing with my peeps.
Handmade goodies
Never let it be said that I'm a prude. That's one of the reasons I didn't hesitate when a friend asked if anyone would be willing to make her some pasties as she'd need them for a burlesque show audition. Yep. Pasties. I did a little research, asked a few pertinent questions. My friend was happy with the result. Sadly, her dreams of dance stardom will have to wait for now. Maybe if I'd made the blue ones with silk ribbon instead…
[Not a valid template]Hats, scarves, even a couple of capelets have come off the needles in the past two years. I really enjoyed the near-instant gratification of turning Malabrigo Rasta into Ovate – so much so that I made two of them. But my adaptation of the Ruffled Collar Capelet remains one of my favorite things.
The pattern calls for Artyarns but since I had none in stash, I went with Rowan ASC in Concrete. It actually mimics the color of the pattern capelet, just not as drapey or refined. I found some slubbed cotton with a silver thread running through it (also in stash) to add texture interest to the collar and the bottom of the capelet. I even added a row of clear beads, giving the finished piece the look of snow hanging off the bottom.
Other creative endeavors
[Not a valid template]Yes, there are other things besides knitting and crocheting. I've been writing a little and ─ wait for it ─ painting! I was getting a sip of water at the local art center drinking fountain when I happened to see a card announcing a juried exhibition. At first I dismissed it as an impossibility: there was only one week before the deadline and they probably wanted "real" artists anyway. I'm glad I didn't listen to my defeatist inner voice. I had three canvases lying about, collecting dust. All they could do is say, "No."  Good thing I checked the spam folder or else I might have deleted the email announcing that I'd been accepted for the show.
What happens going forward? I'd say it all depends on how well I can focus my splintered creative mind-beams. There will always be a story to be written, a picture to be painted or ─  hey ─  is that a new kind of yarn? I might have the perfect design for that…