We're already wading hip-deep into September; school has begun and night time temperatures cooling. That doesn't mean there's no room for a bit of late-summer show-and-tell!
First, the hats. I am not a pale person andone might not expect me to sunburn but I do. That's why I decided to try my hand at crocheting a hat to stave off the rays and keep my sallow face from taking on the look of a red-nosed Santa. I was browsing around the Internets looking at styles and found that I really liked the look of raffia hats. The issue for me is that natural raffia is very hard on the hands. I found my solution in the form of raffia ribbon, most often used as gift wrap or for tying bunches of flowers. I know it probably wasn't meant to be used to make things like hats or bags but, hey, why not give it a go? Even if it tore or came apart from the stress of being crocheted, it was a mere $25 investment in materials.
A little experimentation was in order. First, I needed to get the feel of working with the material and secondly, I had to find the right size hook that would make a dense enough hat to fulfill its sun-blocking duty. I settled on the H (size 8 US / 5.5 mm) hook. Using my usual crochet hat recipe (what I call "flat crown, then down"), I quickly freestyled my way to a cute sunhat. A friend of mine decided she wanted one, too, although she opted for more of a boho-style with a floppy brim.
My takeaway here? Don't be afraid to experiment with unusual materials. It just might turn out to be something really special and uniquely you.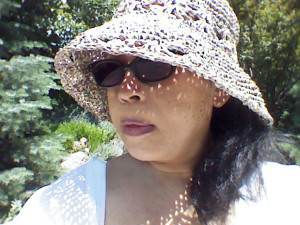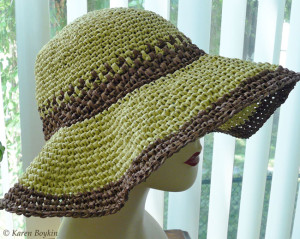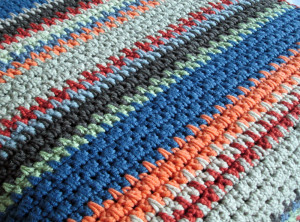 Oops! Almost forgot the table runner.
A friend of mine was working on updating…no, completely overhauling her condo, looking to add bright colors and warmth to her space. Along with acting as a sounding board for her choices, I also decided to make her a one of a kind birthday gift – something to spruce up the catch-all table be the front door. That's how the table runner was born.
I used at least eight different colors of worsted weight cotton blend yarns from stash. At first I tried to plan the color sequence but gave up at a short time, opting instead for the gods of random to take over. My only rule was that one color could not repeat too quickly. Oh, and to remember to alternate wide and narrow bands of complementary.
Can't say how much yarn I used but the runner was crocheted with a size H (5 mm) hook in an alternating spike stitch pattern.